Congratulating our own Doctors of Distinction!
The two-woman team at Darien Signature Health –  Amanda Collins-Baine, MD and Jenifer Drummond, MD, FACP – earned the prestigious Doctors of Distinction award from Westfair Business Journal. At the tenth annual celebration of outstanding Westchester and Fairfield county medical professionals, as selected by peers and a judges panel, keynote speaker Adam D. Hammerman, vice president and CFO of New York Medical College, congratulated the winners, saying, "Thank you for what you do to make us all healthier."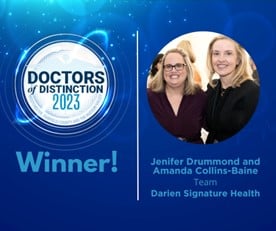 The team was cited for creating an exceptional concierge medicine practice in the community, with outstanding clinical skills and shared values centered on treating patients with great kindness and compassion. They were selected for their "mutual commitment to consistently go above and beyond in delivering personalized primary care to their patients, with direct availability whenever needed to provide treasured peace of mind. The doctors take as much time as needed to know every individual in their practice, and thoroughly explore each one's unique medical history, lifestyle, and healthcare preferences." Darien Signature Health was described as "a place where patients feel comfortable discussing their health issues candidly, knowing they will always be heard in a non-rushed, supportive and caring environment. Drs. Collins-Baine and Drummond actively listen to their patients, with great respect for their concerns, and empower them to be active participants in their own well-being."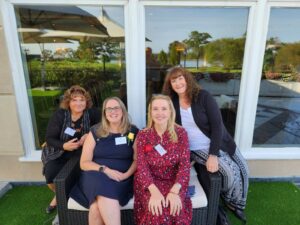 About Darien Signature Health
In 2017 Amanda Collins-Baine, MD, founded Darien Signature Health, a concierge internal medicine practice, to offer patients the highest level of personalized care and attention. Dr. Jen Drummond joined the team in 2022, bringing more than a decade of experience as a hospitalist and a shared passion for practicing excellent medicine with empathy and kindness. The number of patients cared for at Darien Signature Health is limited to ensure benefits that include direct after-hours communications, same day sick appointments, comprehensive visits, and a focus on proactive wellness. The practice, located at 53 Old Kings Highway North in Darien, CT, is affiliated with Yale New Haven Health and Greenwich, Stamford and Norwalk Hospitals. For more information, call 203.286.5604 or visit www.DarienSignatureHealth.com.